Words of inspiration and encouragement will help you build your self esteem and help you feel better about yourself. This page contains some powerful quotes you can use to build your confidence.
But before we take a look at some wonderful words that will inspire you take a look at the image and think about the meaning of love. As with all things, including self esteem and even happiness, they come from within you.

How to Build Your Self Esteem and Happiness:
Who are you? Listen to your inner voice and follow it for it is wisdom and knows what is best for you.
Talk health, happiness and prosperity to every person you meet.
Think only of the best, to work only for the best and expect only the best – you deserve nothing less.
Care about the happiness and success of others and offer them all the help and encouragement they need.
Forget your past mistakes and focus on your successes encouraging yourself to greater achievements in the future.
Always do your best so you can be proud that you gave it your best shot.
When you help someone, ask nothing in return, you will receive your reward ten times over. Try this fantastic meditation video – it'll blow your mind! Ask for Nothing, Receive Everything
Muhammad Ali Quotes:

"I know where I'm going and I know the truth, and I don't have to be what you want me to be. I'm free to be what I want."
"If they can make penicillin out of mouldy bread, they can sure make something out of you."
"It's the repetition of affirmations that leads to belief. And once that belief becomes a deep conviction, things begin to happen."
"It isn't the mountains ahead to climb that wear you out; it's the pebble in your shoe."
"I hated every minute of training, but I said, 'Don't quit. Suffer now and live the rest of your life as a champion." – Muhammad Ali
Read many more inspiring thoughts here
More Words of Inspiration
Good people strengthen themselves endlessly – Confucius
Don't be afraid to go out on a limb…that's where the fruit is
The hardest challenge is to be yourself in a world where everyone is trying to make you be somebody else. – E. E. Cummings
You cannot be lonely if you like the person you're alone with. – Wayne Dyer
Insist on yourself. Never imitate -Ralph Waldo Emerson
None of us will ever accomplish anything excellent or commanding except when he listens to this whisper which is heard by him alone – Ralph Waldo Emerson
See more inspirational quotes at Brainy Quote
Inspiration is something we all need from time to time. Are you feeling down? Lost your way or your direction? Bored? Perhaps you've taken a knock and feel rather negative about life. Whatever you feel and whatever the cause nothing has the power to motivate you like words .
Words of inspiration and quotes can inspire you daily – if you repeat them they become affirmations.
The Power of Words
Remember that words are powerful, those of others can hurt you or motivate you and the most powerful words of all are those you repeat inside your head. If you constantly criticize yourself or tell yourself you are not good enough then your self esteem suffers. On the other hand, positive words inside your head can really lift you and encourage yourself. This is why your self talk should not be negative.
Another thing words can do is help you become more confident and positive. Self hypnosis is another amazingly effective way to change the way you think and feel. It is a highly successful technique because it uses the positive power of words on your mind and body.

Download this exciting hypnosis pack: "Feel Better About Yourself"and discover how well it will work for you. I guarantee it.
Positive Thinking
For me personally, when I faced depression and low self esteem, I needed ways to help change my negativity into positivity and I chose words as the tool I would use. Let me explain.
I read inspiring books and set my mind on a program of renewal and education into methods that produce not only a better level of self esteem but more positive thinking. This helped to bring me to a place where I found the hope I needed to face my problems both physical and mental. You can do the same. The first thing I recommend then is to read books filled with inspiring words that will allow you to rediscover joy and love in your world.What kind of books? A great one to start with is Words to live by: Inspiration for everyday by Eknath Easwaran. This will certainly point you in the right direction.
On this page I have listed many quotations that can lift your spirits and change your thinking. Words alone can do nothing unless you think about them and feel their power and message and here is another book that will allow you to do just that. Motivating Quotes for Motivated People will open your eyes and your heart and fill you with hope again. Books can change you and this one truly will, I promise you.
Words of Inspiration Can Help Your Self Esteem
Words are everywhere and as we said this includes your head. Reading inspiring books that help you to improve yourself and live a better life are a great source of motivating words but there is another wonderful source of inspiration that involves another one of your senses and that relaxes and soothes you immediately – music. Music can be healing, I particularly love New Age Music that soothes the soul and inspires hope.
If you believe you have low self esteem, where do you think that came form? Have words had a part to play in that? I bet they have. The words of others can stick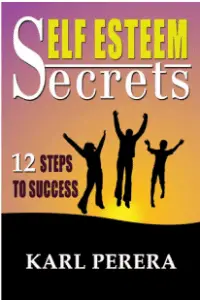 in your mind and if critical, can fuel your own negative beliefs about yourself. It stands to reason that the opposite is true, words can heal you also. I have written a best-selling book that has helped so many to build their self esteem. If you'd like to leave the old negative you behind and build up your self esteem and confidence levels then let me show you how to do that in
my book now available online from this website – it's called "Self Esteem Secrets", I know you'll love it.
"Just finished chapter one, feeling motivated! Like the questions asked, short and simple, yet they really make you think!"
Karen Lewis